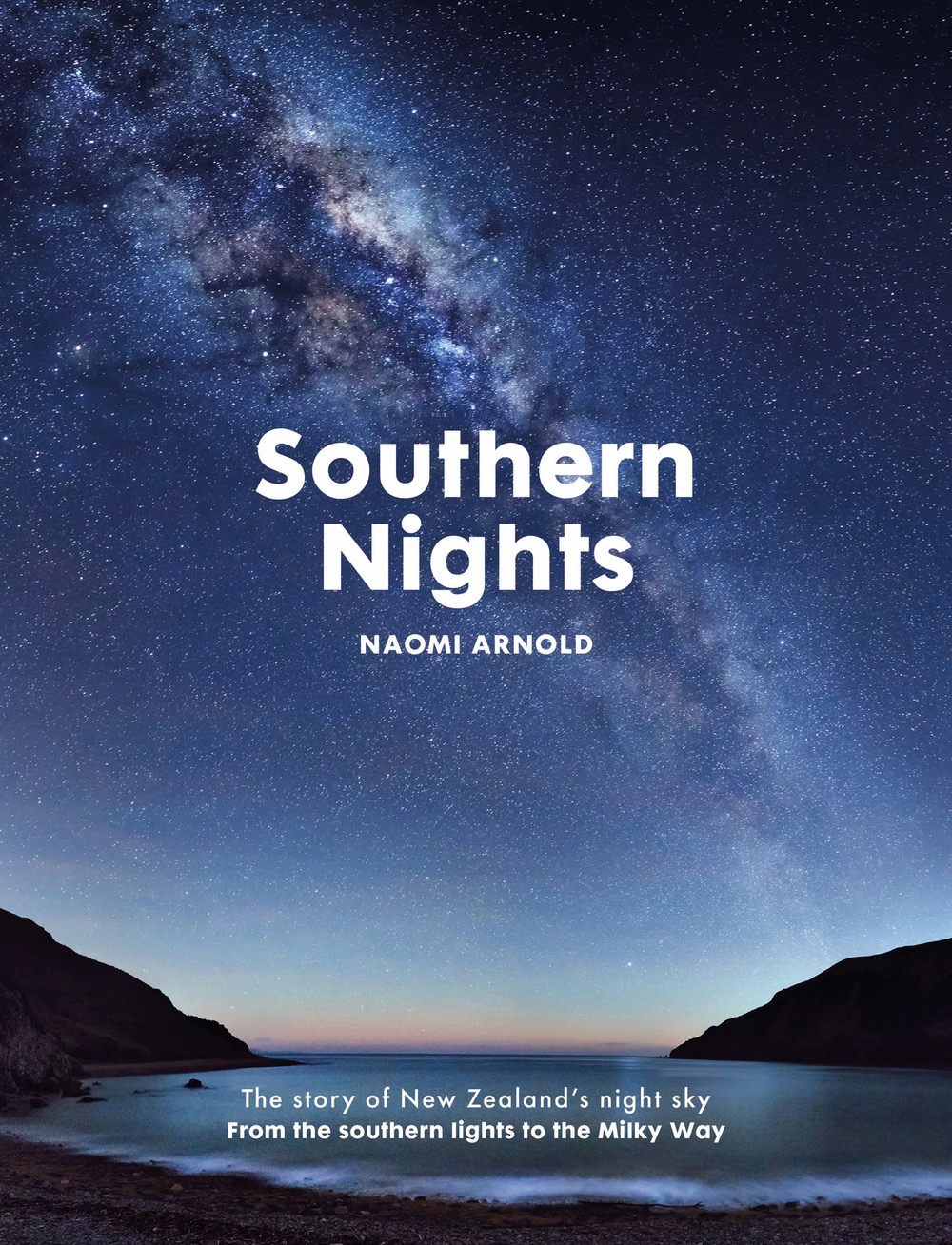 Southern Nights
A story of New Zealand astronomy
HarperCollins, 2019
About the book
Meet the night sky, down under.
Aotearoa New Zealand was founded on stargazing. It was celestial navigation that brought the first people here, and it was tātai arorangi, Māori astronomy, that helped people survive once they arrived. There is no better place on Earth to view the brilliance of other worlds.
Covering eclipses, aurorae, comets and constellations, backyard observatories, traditional stargazers and world-class astrophotographers, Southern Nights is lavishly illustrated with more than 100 full-colour glossy photographs by some of New Zealand's best astrophotographers. It showcases the major stars and objects of our sky and their associated meanings, history and cultural importance, and explains Polynesian celestial navigation.
Finally, it delves into modern astronomy, covering some of New Zealand's amateur and professional scientific astronomers and their research, and looks at our observatories and the increasing popularity of dark sky tourism. 
This is the unique story of Te Whānau Marama, our family of light - the night sky that glows above us all.

Praise for Southern Nights
It's written like an evocative yet clear-headed dream and history lesson in one, and is an entreaty to come back to the natural world.
A wonderful example of science writing made not just easy to read but beautiful to read.

Fantastic book... a wonderful demystifying of the skies... fabulous examples and analogies that help you get your head around the extraordinary scale of space… mind-boggling great photography... comprehensive but utterly accessible... full of surprises... great stories that will enrich our understanding of the world above and around us.

Reviews
The Spinoff: Top 10 Non-fiction Books of 2019 and review by Michelle Langstone
"I've read a lot of non-fiction this year, and I've been up to my eyeballs in memoir and creative essays, and I've loved them all, but Naomi's book about the history of astronomy in New Zealand has stayed with me the longest. It's written like an evocative yet clear-headed dream and history lesson in one, and is an entreaty to come back to the natural world. It educated me without being dull, and it inspired me without the nausea of a TED talk. When you hold it in your hands it is handsome, and when you turn the pages it is beautifully alive with stunning photography. It made me love the world a bit more, right when I needed it the most."
Newsroom: Top 10 Non-fiction Books of 2019 and review by Steve Braunias
"Come for the pictures, and stay for the luminous prose. Nelson journalist Naomi Arnold has long established a reputation as one of the best prose stylists in New Zealand; she's also smart as hell, and Southern Nights is a wonderful example of science writing made not just easy to read but beautiful to read. Her lavishly illustrated book on astronomy in New Zealand provides a guide to stars, planets, comets, asteroids and that sort of thing. On the Southern Cross: "It's our flag; it never leaves our skies; it's home."
As for the photos – God almighty. They are awe-inspiring, wonderful. Loads of double-page spreads are given over to colour photos of night skies, and they look as big as the cosmos itself. As the author writes, "Our bodies evolved with regular patterns of sunlight and darkness, and to subsume yourself back into the night is a kind of meditation in itself."
North & South: Best Books for Christmas and review by Mike White
"It bears remembering that New Zealand is founded on stargazing. All early explorers, Polynesian and European, arrived here by studying and following the night sky. Journalist Naomi Arnold's fantastic book describes these arrivals and just what it was that guided these discoverers. It's part of a wonderful demystifying of the skies, with Arnold providing fabulous examples and analogies that help get your head around the extraordinary scale of space, and what we see when we look up.
"Aided by some mind-bogglingly great photography, the book is comprehensive but utterly accessible, with everything from asteroids to aurorae explained. Full of surprises (who knew the Southern Cross once belonged to the northern hemisphere?) and great stories that will enrich our understanding of the world above and around us."
Radio New Zealand: The Panel Summer Reads
"It's stayed with me more than anything else … It is an absolutely magnificent achievement ... It's really accessible and is littered with incredible images of our night sky. It's just absolutely beautiful. It taught me so much and made me go outside into my garden and look up into the sky and remind me of the beauty around me. It's so engaging…. It just made me really happy."
Wild Tomato Christmas picks, and review by Renee Lang
"Handsomely illustrated and thoroughly readable... fascinating stuff indeed."
NZ Booklovers review by Rebekah Fraser
"It is an expansive book, taking explaining Polynesian celestial navigation, as well as Māori astronomy, or tātai arorangi, as well as viewpoint from colonists too … For what can be a quite technical topic, Arnold makes sure readers have a solid understanding.
"Simple graphics and explanations make complex aspects of astronomy easy to grasp … Her incredibly well-researched work speaks volumes about why this type of conservation is so important. Arnold demands we start paying attention to the night sky, to understand how we are connected to it, and why it is such a taonga."
Eastern Bay Life review by Diane McCarthy
"Whether you are already well versed in the subject or a complete newby, if you have any interest in astronomy at all, this gorgeously glossy, hardcover book is bound to capture your imagination. Southern Nights is one of those rare books that explores astronomy as it applied to New Zealanders. It brings together the many scientific, social and cultural stories that give the stars meaning to us.
"This book would make a compulsory reading for stargazing tourists from the Northern Hemisphere. In this vein, it also reveals New Zealand's best stargazing spots … Lots of beautiful, glossy photos of the night sky make this book a lot less of a challenging read than it sounds and it would add grace to any coffee table as well as make for a fascinating read."
Press
New Zealand Herald Travel: We may be in lockdown, but at least we can look at the sky. I contributed to this story on stargazing during lockdown.

Cathay Pacific Discovery magazine: Global astrotourism is booming. Here's why you should take a stargazing trip down under.
Where space law begins: Naomi Arnold on the problem of Elon Musk: I wrote about Elon Musk, Starlink, space law, and night pollution for The Spinoff.
New Zealand's stunning night sky: Why you should enjoy it this summer - An interview with the New Zealand Herald's Jamie Morton.
Southern skies - A chat with Kathryn Ryan on Nine to Noon about dark-sky protection, as well as an image gallery.
Magic Talk Radio - An interview for Magic Talk's Sunday Cafe show about celestial navigation and how to get some stargazing into your daily life.
The Cafe, TV3 - Discussing some of the brilliant photography in Southern Nights, as well as dark-sky protection.
The AM Show, TV3 - Highlighting some of the best stargazing spots in New Zealand.
Bright Hope: The story of New Zealand's night sky - Writer Michelle Langstone visits me in Nelson and we go stargazing for Canvas (New Zealand Herald).
Heavens Above - Journalist Bruce Munro gave me a call for the Otago Daily Times and asked about my favourite constellation, among much else.
Star chasing - I wrote this for Your Weekend on the rise of dark-sky tourism and why we must protect the night.
The light of the dark - A beautiful spread by Kate Coughlan for NZ Life & Leisure's Christmas issue.
Next featured Southern Nights in its What's New column.
North & South featured images from Southern Nights photographer Jack Burden in its Last Picture Show.
The Book Show, Radio Southland - I talked to Terry about the making of the book.
Festivals & Events
Escape! Festival, Tauranga, May 29, 2020: Southern Nights:* The Southern Cross constellation sits proudly on our national flag and, due to rise from July 13 this year, Matariki has taken on a new significance in recent years. But what do we really know about the constellations and stars in the skies above Aotearoa? Helping to explain the big picture in an illustrated presentation are Naomi Arnold, author of Southern Nights, and traditional navigator Jack Thatcher, who has criss-crossed the Pacific using the stars as his road map.
Auckland Writers Festival, May 17, 2020:* What connection to a greater, wilder, yet orderly power is lost when the stars blink out and our attention is directed downward, at ourselves? asks Naomi Arnold, author of Southern Nights: The Story of New Zealand's Night Sky from the Southern Lights to the Milky Way. As increasing satellite activity and light pollution threaten to dim the cosmos, Arnold showcases our "family of light" in a sparkling illustrated talk – the Southern Cross; the Magellanic Clouds; Omega Centauri – and drawing from the three strands in her book discusses the scientific, social and cultural stories of astronomy in NZ. Sit back and enjoy a glimpse into the huge treasure that's in our skies.
Nelson Institute, May 2020:* An illustrated talk on astronomy and New Zealand's astronomical heritage.
Nelson Science Society, April 7, 2020 7.30pm:* An illustrated talk on astronomy and New Zealand's astronomical heritage.
Richmond Library, April 30, 2020 5.30pm:* In discussion with Volume Books' Stella Chrysostomou.
Book launch - Page & Blackmore Booksellers, Nelson, November 28, 2019, 5.30pm: Come to Page & Blackmore to celebrate the publication of Southern Nights.
Book of the Week, Nov 2019: Volume Nelson.
Page & Blackmore Pukapuka Talks, Nelson Arts Festival, October 28, 2019: Southern Science: Naomi Arnold and Rebecca Priestley, both award-winning science writers, explore what's above and beyond Aotearoa New Zealand. In Southern Nights, Arnold tells the story of our night skies and explores what the world's oldest science, astronomy, reveals about both our past and present. In Fifteen Million Years in Antarctica, Priestley offers a deeply personal tour of the Earth's most remote and isolated continent. She reflects on what Antarctica can tell us about Earth's future.
* Cancelled due to Covid-19